WHITE PAPER
TA Leaders Dilemma:


A Report on Tech Recruitment in the AI Era
How tech recruitment leaders are facing the new challenges with automation, candidate quality, and fraud to adapt to the AI age.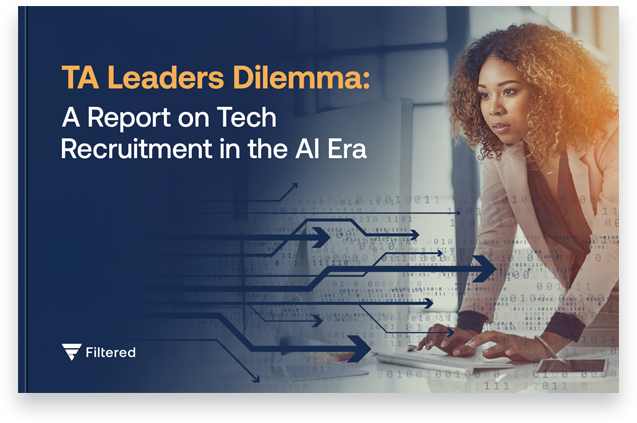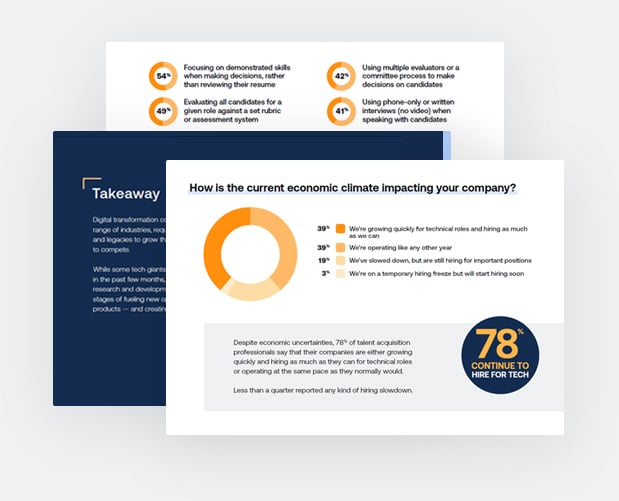 In this report you'll learn:
The importance of Gen AI skills for technical candidates
Concerns and considerations of AI's impact on the recruiting profession

Challenges and opportunities using AI in the tech hiring process
What is the source of the data used for this report?
The data gathered and used in this is report is from a 2023 survey commissioned by Filtered, which includes responses from more than 500 talent acquisition leaders.
Who is Filtered?
Filtered is on a mission to reinvent hiring.
Our AI Based interview & assessment platform automates and streamlines how hiring teams screen and interview candidates. Customers using Filtered experience 4X faster time-to-hire and save 1000+ interview hours per year.
We're based in Boston, MA, however we have employees all over the globe, and we are backed by Andrew Ng's AI Fund, Silicon Valley Data Capital, and TDF Ventures.
How are we different?
Unlike most assessment platforms that only offer coding tests, Filtered's skills-based hiring platform provides job simulations.
These simulations mimic a company's tech stack, which allows hiring managers to better verify candidates' skills related to the actual job while providing candidates with a clear picture of the work they'll be doing on a daily basis.
We also offer the ability to assess the soft skills of the candidates through our video and text-based questions to get a complete picture of a candidate's abilities, communication skills, and conceptual thinking.
Download the report for free